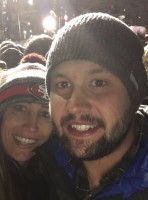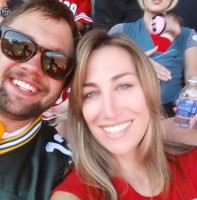 ALINE BIASINI
A young software engineer, freshly moved to the Bay area, meets girl at his office. After months of trying, he finally catches her eye. After more months of Battlestar conversations and countless football games watched, he finally wins her over. Fast forward to now and a crush has turned to love and love into marriage.
Always busy at work or dancing, Aline certainly wasn't expecting to fall for a younger co-worker especially one who disliked all of her favorite sports teams. 
His silliness, sense of humor and common interests quickly made her realize he was the one.
Un jeune ingénieur informatique, nouveau dans la Bay Area, rencontre une fille au bureau. Après des mois, il arrive finalement à attirer son attention. Après plus de mois à discuter du TV show Battlestar et à regarder innombrables matchs de football, il arrive finalement à la conquérir. Avance rapide à aujourd'hui et un béguin est devenu de l'amour et de l'amour à un mariage. 
Toujours occupée au boulot ou à la danse, Aline ne s'attendait sûrement pas à tomber pour un jeune collègue, spécialement un qui n'aimait pas ses équipes préférées.

Son grain de folie, sens de l'humour et points d'intérêt communs l'on rapidement fait réaliser qu'il était le bon.